There are a number of FREE parking spaces in and around the Bendat Basketball Centre precinct.
VIPs with confirmed parking will have entry to the Bendat Underground parking via Herb Elliott Drive.
There are several overflow parking areas, with additional spaces at HBF arena. (5 min walk to Bendat).
Please adhere to Town of Cambridge parking conditions. Rangers do patrol these areas and will issue fines to any vehicles parked in prohibited spaces.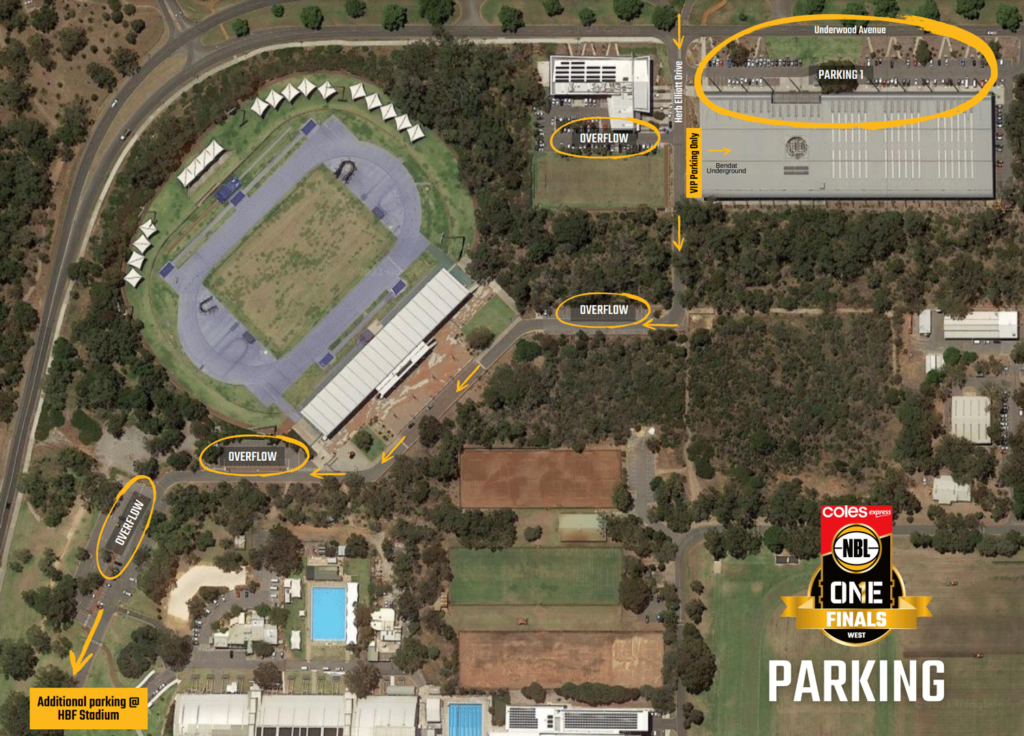 The following items are prohibited:
• Cans, bottles (including glass or metal) and containers (1x empty reusable bottle permitted)
• No external alcoholic beverages will be permitted entry to the venue;
• Eskies or hard cased cooler bags;
• External/Commercial food and drink.
• Bags larger than an A4 sheet of paper (NO Backpacks) (Bags will be checked on entry)
• No Basketballs
• No prams
• Drones or other remote controlled devices;
• Illegal or illicit substances;
• Horns, trumpets, sirens etc;
• Dangerous or hazardous items (fireworks, flares, laser pointers); and
• Any other item deemed by the Manager in its absolute discretion, to be inappropriate, illegal, unsafe or hazardous in any way.
The Manager reserves the right to, at any time; add items to the prohibited items list.
Patrons may be denied entry to or removed from the Venue for any failure to comply with a direction or request from the Manager, Hirer or relevant health authority.
COVID19 Acknowledgement:
Patrons acknowledge that by entering the Venue, they are not currently exhibiting any respiratory symptoms (including but not limited to a cough or shortness of breath) sort throat, fatigue, loss of smell or taste, a runny nose, muscle pain, joint pain, diarrhoea, nausea/vomiting or loss of appetite, or that during the past 14 days, they have not had close contact with a confirmed or probable case of COVID-19, or have live in or travelled through a COVID-19 hotspot. If one or more symptoms are present, a Patron must not attend the Event or attempt to enter the Venue and should immediately seek medical advice in accordance with the directions of relevant health authorities