For courses run by Basketball WA, please contact the office on 6272 0741 for final confirmation as courses need to meet minimum numbers to clear for commencement.
There may also be prerequisites for courses. Any individual interested in registering for future courses are encouraged to get in touch with Basketball WA via email on Damian.Barr@basketballwa.asn.au.
Please be aware that the courses below are projected dates and as such may/may not run depending on the level of interest and other variables.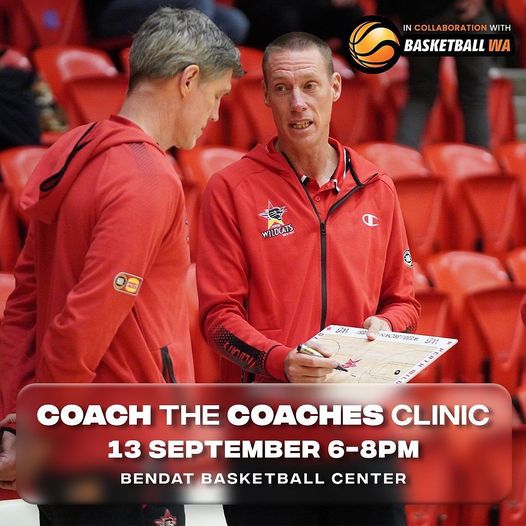 COACH THE COACHES CLINIC
Basketball WA and the Perth Wildcats are calling all coaches!
Join John Rillie and his coaching staff for the annual "Coach the Coaches" clinic!
This exciting opportunity helps grassroots and youth basketball coaches of all levels learn valuable lessons from some of the best in the business.
FREE TO ATTEND:
To register please see the link:
---
ASSOCIATION COACH COURSE (FORMERLY LEVEL 2)
Saturday October 1st and Sunday October 2nd, 2022
Saturday – 11.00am-5.30pm, Sunday – 8.30am-1.00pm
Willetton Basketball Stadium, Burrendah Blvd (Opposite Southlands Shopping Centre), Willetton
Cost: $250
𝘛𝘩𝘦 𝘈𝘴𝘴𝘰𝘤𝘪𝘢𝘵𝘪𝘰𝘯 𝘊𝘰𝘢𝘤𝘩 𝘊𝘰𝘶𝘳𝘴𝘦 𝘪𝘴 𝘢 2 𝘥𝘢𝘺 𝘤𝘰𝘶𝘳𝘴𝘦 𝘢𝘷𝘢𝘪𝘭𝘢𝘣𝘭𝘦 𝘧𝘰𝘳 𝘢𝘯𝘺 𝘤𝘰𝘢𝘤𝘩 𝘸𝘩𝘰 𝘩𝘢𝘴 𝘩𝘦𝘭𝘥 𝘵𝘩𝘦𝘪𝘳 𝘊𝘭𝘶𝘣 𝘊𝘰𝘢𝘤𝘩 (𝘓1) 𝘈𝘤𝘤𝘳𝘦𝘥𝘪𝘵𝘢𝘵𝘪𝘰𝘯 𝘧𝘰𝘳 𝘢 𝘮𝘪𝘯𝘪𝘮𝘶𝘮 𝘰𝘧 12 𝘮𝘰𝘯𝘵𝘩𝘴.𝘊𝘰𝘢𝘤𝘩𝘦𝘴 𝘸𝘪𝘭𝘭 𝘯𝘦𝘦𝘥 𝘵𝘰 𝘣𝘳𝘪𝘯𝘨 𝘢 𝘯𝘰𝘵𝘦𝘣𝘰𝘰𝘬 𝘢𝘯𝘥 𝘱𝘦𝘯, 𝘸𝘢𝘵𝘦𝘳 𝘣𝘰𝘵𝘵𝘭𝘦, 𝘭𝘶𝘯𝘤𝘩, 𝘤𝘰𝘢𝘤𝘩𝘪𝘯𝘨 𝘣𝘰𝘢𝘳𝘥 𝘢𝘯𝘥 𝘮𝘢𝘳𝘬𝘦𝘳
---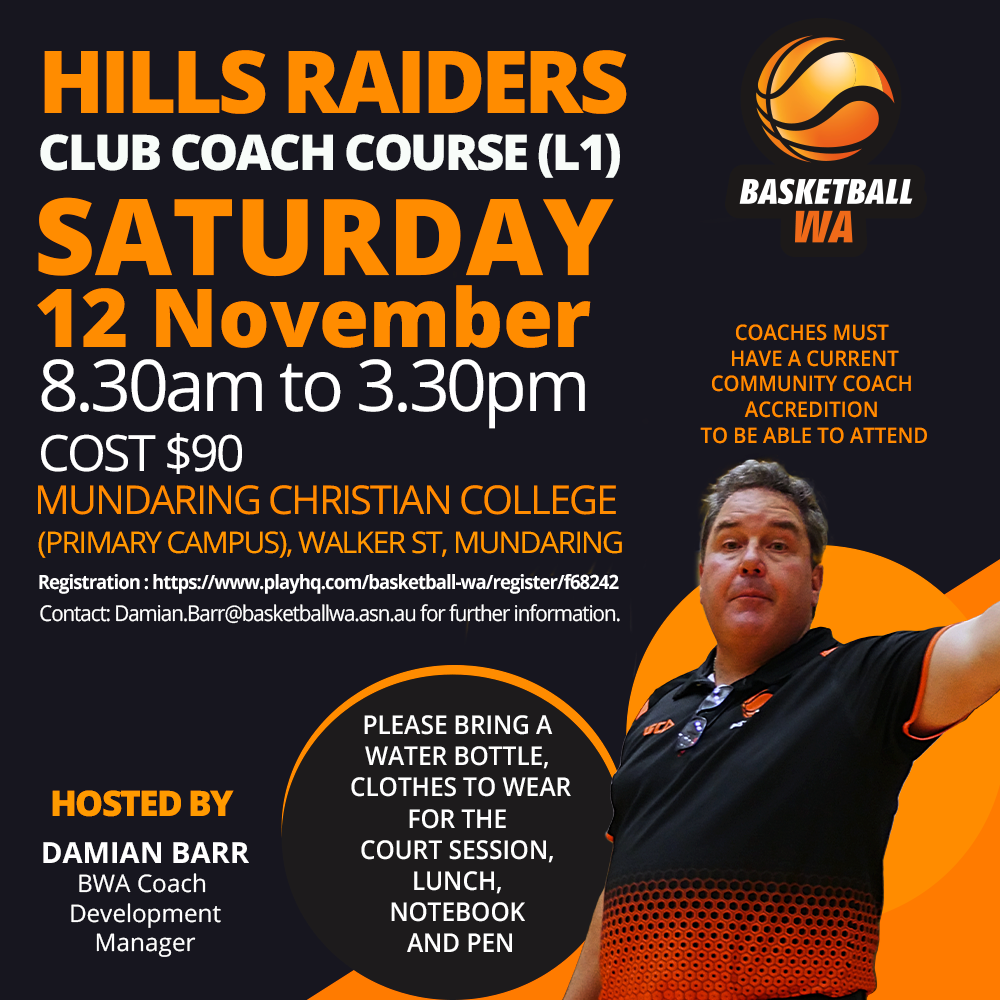 CLUB COACH COURSE (l1) 
Host: Hills Raiders
Where: Mundaring Christian College (Primary Campus), Walker St, Mundaring
When: Saturday, November 12th
Time: 8.30am Start to 3.30pm
Register: https://www.playhq.com/basketball-wa/register/f68242
**All coaches must have a Community Coach accreditation to be able to attend. Please bring a pen, lunch, water bottle and appropriate clothing for the on court section.