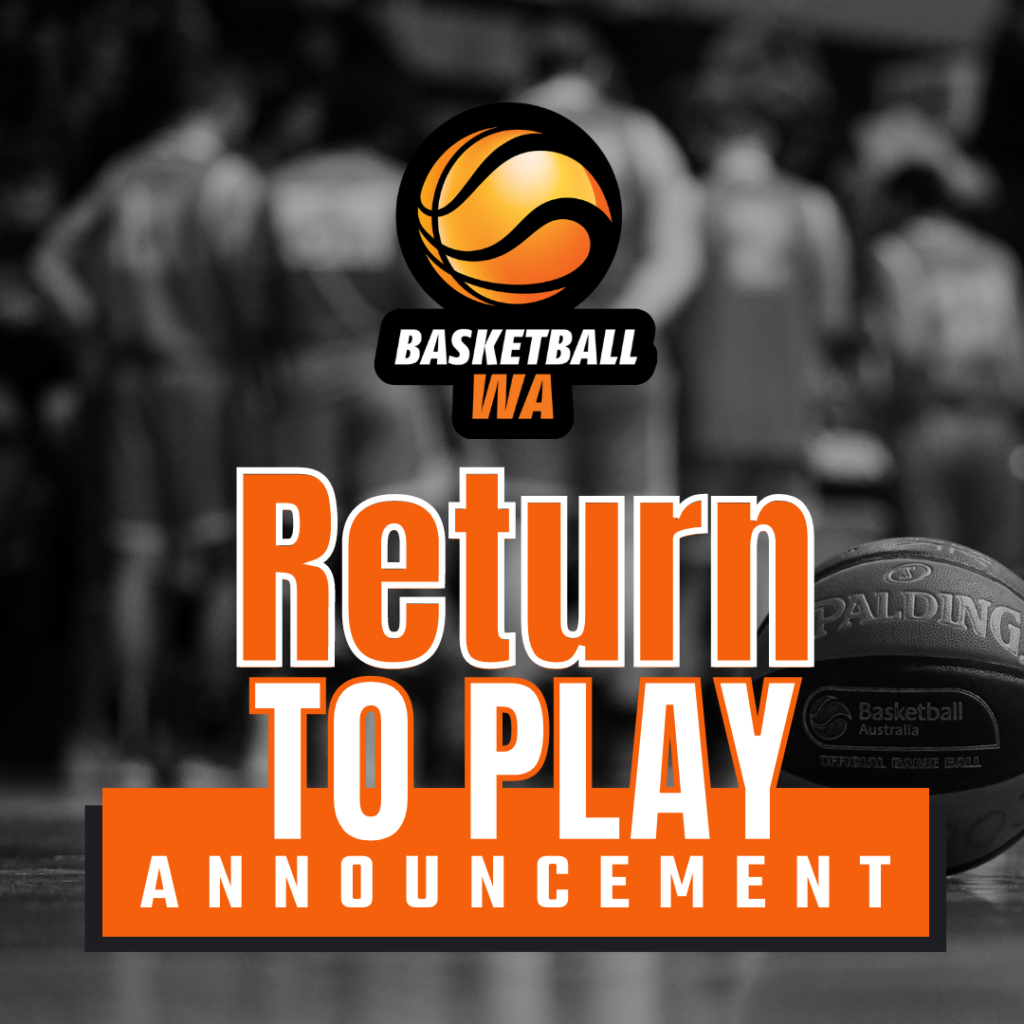 ANNOUNCEMENT – RETURN TO PLAY
NBL1 WEST, WABL and Domestic Basketball in the
Perth and Peel Region
The Government has confirmed that it will no longer be necessary for people to wear masks in the Perth and Peel region for the period from 12.01 am Saturday 8th May to 12.01am Saturday 15th May except at events with more than 1000 people.
Basketball WA have worked closely with stakeholders this week to ensure 30,000 players have the ability to play basketball. We are pleased that these restrictions will allow basketball to be played, noting that we will need to ensure no more than 1000 people attend NBL1 West games this weekend.
WABL: Round 3 of WABL will proceed as fixtured with all venues able to be used at normal capacity. The Government has permitted community sport to be played this week without any restrictions.
NBL1 West: Round 4 will proceed. Please note that the 2 fixtures originally fixtured for Friday 7th may have been rescheduled to Saturday 8th May (Mandurah Magic v Cockburn Cougars) and Sunday 9th May (South West Slammers v Rockingham Flames).
Please be aware that if you are attending a multi-sport venue as a spectator, the number of people in the venue may reach over 1,000. As such, we ask that you take a mask with you as you may be required to wear it while spectating at certain time.
This upcoming weekend is PINK Round across both NBL1 West and WABL, where all Associations and clubs are raising funds for the Breast Cancer Network of Australia. There will be a range of activations across social media, highlighting the importance of this round, and we ask all our stakeholders, community members, players and fans to help us support this cause.  
You can donate to the fundraising efforts here – https://pinksportsday.bcna.org.au/my-fundraising/63/basketball-wa—nbl-1-west-and-wabl
We will continue to follow the WA Government guidelines at all times to help ensure a safe environment for all of our members.
If you are unwell, please get tested at one of the COVID WA Clinics.
Do not attend basketball training or competitions if you have a fever, sore throat, cough, or shortness of breath. Please seek medical advice and get tested.
Wash your hands regularly.
Ensure you bring a towel and labelled water bottle to games and training. Avoid sharing food and beverages.
Wipe down score benches & team benches in between games.
Venues will continue to be required to maintain a contact register for patrons. This is a shared responsibility between venues and patrons, and penalties may apply for failing to comply.
Our community's safety and health are a priority, so we will continue to follow the latest guidelines and requirements.
WA COVID Updates: www.wa.gov.au
EMBARGOED – Return to Play – WABL & NBL1 WEST 070521 final 
For further information, please contact
Evan Stewart
Deputy CEO
Evan.stewart@basketballwa.asn.au
CONTACT TRACING UPDATE
From 5 December 2020, indoor sport stadiums will be required to maintain contact registers for WA Health Department COVID-19 contact tracing.
Providing contact details helps make contact tracing more efficient, if it becomes necessary. This helps stop the spread of COVID-19 infection.
In the event of COVID-19 being detected in the WA community, contact registers help to protect the community by providing information to the WA Health contact tracing team, which enables them to quickly identify and assist anyone that may have been exposed to COVID-19.
Below we have included State Government advice on a series of questions. You will need to work with your Venue Owner to understand the contact tracing system that they will be using and what your role will be in this system. The majority of our country associations operate in local government run facilities and it is very likely that they will be responsible for the contact tracing system at your venue. In such circumstance, your role is more than likely to ensure that your members are aware of what they have to do to enter the venue.
We would recommend that people download the SafeWA app as this will be the easiest way for all Western Australians to check into facilities. You must however, also provide a manual paper based sign-in system for those Western Australians who do not download the SafeWA app.
If you are responsible for running your stadium you will need to ensure that you meet the contract tracing requirements. You should make sure you engage your venue owner to ensure that they are comfortable with the contact tracing system that you will use but you will ultimately be responsible for implementing and maintaining the contact register.
SUMMARY OF KEY CONDITIONS:
Indoor stadiums will now need to implement a contact tracing system, including a manual system for those that do not want to use the SafeWA app.
Indoor stadiums are still subject to the 2 sq metre capacity rule.
Your organisation should still ensure hygiene protocols are followed, with sanitiser available for all patrons and high use areas (such as score benches) wiped clean between every game.
For further information or any concerns please contact: 
Evan Stewart
Deputy CEO 
Basketball WA
M:   0401 781 902
E:    evan.stewart@basketballwa.asn.au
DOCUMENTS TO DOWNLOAD
Update – Basketball WA Contact Tracing – 1 Dec 2020
Frequently Asked Questions (FAQs) BWA Contact Tracing – 1 Dec 2020
SafeWA-How-To-Guide-For-Individuals 
Paper-based-Contact-Register-Template
—————————————-



Responding to a COVID-19 Incident
Please note that our document does not refer to how to respond to an incidence where someone who contracts COVID-19 has been in your venue or in one of your teams.
If you are aware that someone with a case of COVOD-19 has been in your venue or one of your teams, ring the COVID-19 Public Hotline 24/7 on 1800 020 080 and follow the advice of health officials.
The exact advice will change during different phases so you should seek up to date advice through the hotline. Current advice for phase 2 can also be found at the following link:
https://www.wa.gov.au/sites/default/files/2020-05/COVID-Safety-Guidelines.pdf