The Southern Cross Program is the beginning of the high-performance representative team pathway for athletes and coaches. It is a development program aimed at introducing both athletes and coaches to a high-performance environment and giving them the tools to be successful at a state and national level.
The southern cross program consists of the SOUTHERN CROSS CHALLENGE (SCC) pathway or the HIGH-PERFORMANCE DEVELOPMENT CARNIVAL (HPDC) pathway for athletes that have been identified and selected during the trials. All athletes that are selected during the trials will will be placed into one of those two pathways.
Both program pathways will give athletes an opportunity to work on skills and concepts that are aimed at preparing them for possible future state team selection and will conclude with those athlete's that have been placed into a team, participating in a carnival.
SCC PATHWAY
Athletes that are selected into the SCC pathway will train and prepare to participate in the Southern Cross Challenge Carnival that will be held in Melbourne, Victoria in January 2024. The team made up of both regional and metro athletes and is an opportunity to travel and compete against competition.
HPDC PATHWAY
Athletes that are selected in the HPDC team pathway will train and prepare to participate in the High-Performance Development Carnival that will be held at Bendat Basketball Centre, in January 2024. A METRO and Country team will be selected play in the carnival and is an opportunity to for the athletes to get exposed to meaningful games
SOUTHERN CROSS PROGRAM ATHLETE SELECTION PROCESS
The selections for the SCP will be broken into two parts:
Athlete identification
Athlete pathway placement
ATHLETE IDENTIFICATION
The initial athlete identification phase of the program will begin with METRO and COUNTRY trials. Metro athletes will have 3 sessions while Country athletes will have 1 weekend camp which at the conclusion of, approximately 20-25 athletes will be selected per program and age group to be invited to the second part of selections.
ATHLETE PATHWAY PLACEMENT
Athletes that have been identified at the initial trials, will be invited to attend the Southern Cross Selection camp. 40-45 athletes per age group (made up of metro and country athletes) will attend the camp and participate in drills and games with and against .
At the conclusion of the camp, athletes will be placed into one of the pathways to continue to the program.
There will be 10 athletes selected into the Southern Cross Challenge team (made up of country and metro athletes)
10 country athletes selected into the COUNTRY HPDC team.
10 metro athletes selected into the METRO HPDC team.
All athletes not placed into a team will continue as RESERVES for the COUNTRY or METRO HPDC pathway*.
*Athletes that are selected into the HPDC pathway will be placed into a metro or country team based on their location eligibility
ATHLETE SELECTION CRITERIA
As the Southern Cross Program is a DEVELOPMENT PROGRAM first foremost and not a state team, selections will reflect that and may not necessarily be the top WABL athletes or athletes that have previously been identified.
Athletes will be assessed on a range of factors including:
Current skill and ability
Future potential
Size and athleticism relative to future basketball position
Athlete development over the trial period
Attitude
Ability to implement teaching points from the trials
*Please note that the high-performance pathway is not linear. An athlete's selection into the SCC/HPDC does not guarantee future sections into high-performance programs and likewise, just because an athlete in not selected does not mean they will not be selected in future programs.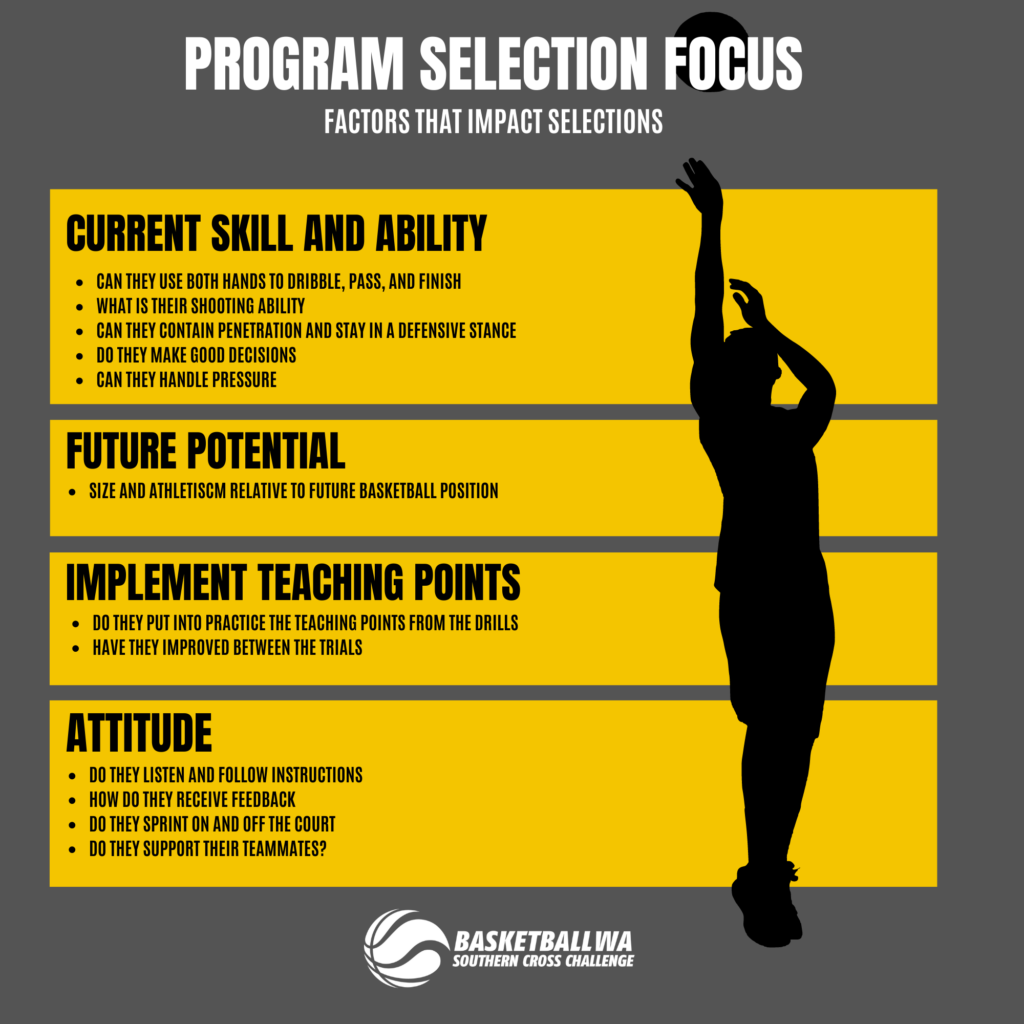 2024 ATHLETE ELIGIBILITY
The Southern Cross Program includes both under 14 and under 15 programs and eligibility will be based on an athletes age's as at December 31st of the year the competition is being held and not the year that the program trials are held.
Athletes wishing to trial for the 2024 Southern Cross Program must be born in:
Under 14 program – 2011 born athletes only
Under 15 program – 2010 born athletes only
Athletes that fall outside of those years will unfortunately be ineligible for this years program but will be able to trial or participate in one of our other high-performance programs in 2024.
PROGRAM DATES
Trials for each of program can be found below: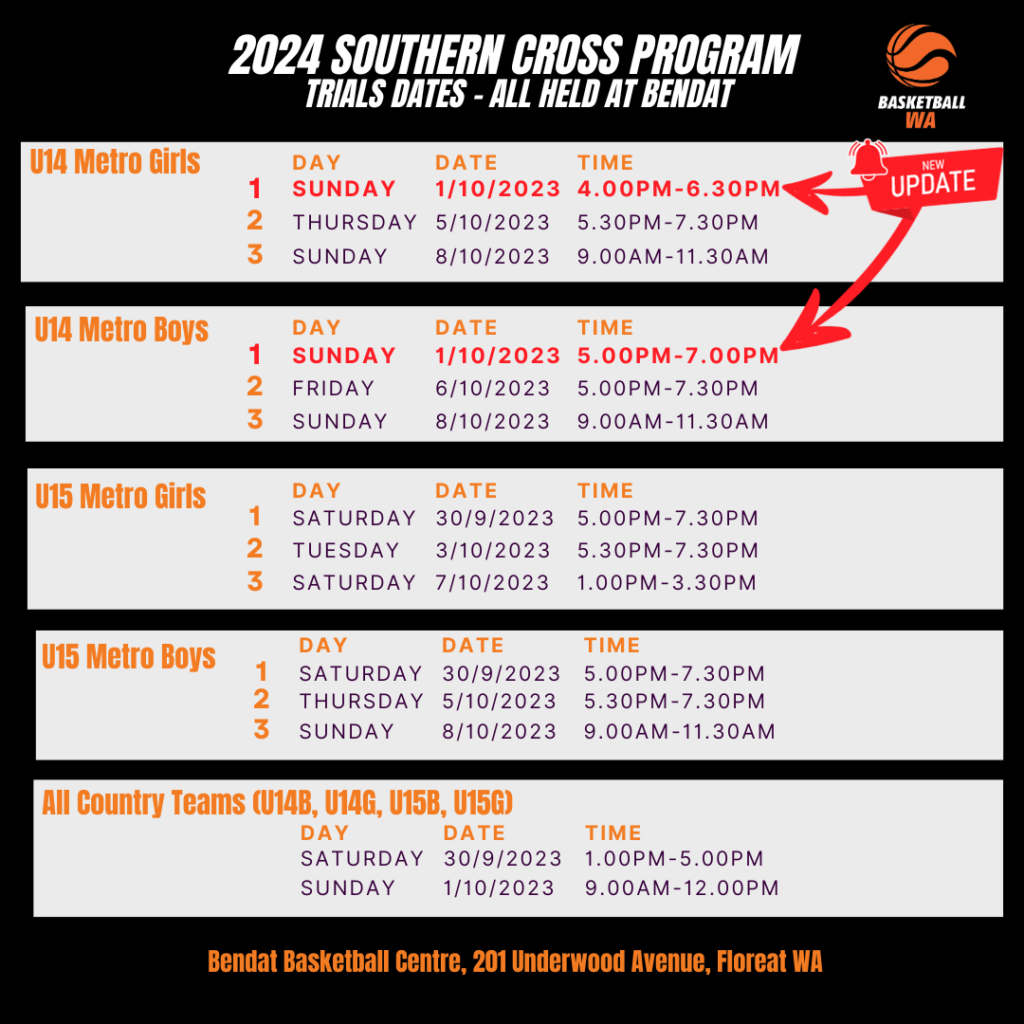 ATHLETE REGISTRATIONS
Registration for the 2024 Southern Cross Program for the below age groups are open and can be accessed by clicking on the link.
ATHLETES BORN 2011
UNDER 14 COUNTRY BOYS
UNDER 14 METRO BOYS
UNDER 14 COUNTRY GIRLS
UNDER 14 METRO GIRLS
ATHLETES BORN 2010
UNDER 15 COUNTRY BOYS
UNDER 15 METRO BOYS
UNDER 15 COUNTRY GIRLS
UNDER 15 METRO GIRLS
If you would like more further information about the Southern Cross Program, please send an email to dan.donaldson@basketballwa.asn.au
Dan Donaldson
BWA METRO HIGH-PERFORMANCE LEAD COACH